Spring is in the air and the end of stew season is nigh making a very high probability this will be the last one I post for a while.  I'm sure there will be some cold stew worthy days before spring goes to summer but more and more of my meals will be moved from the pot to the grill.  Here's a look back at the other stew recipes since Fall 2014.
Ground Elk and Purple Cabbage Stew
Adapted from Naked Cuisine's Argentine Beef Stew
Argentine Beef Stew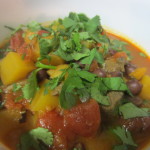 Serves: 6-8
Instructions
Place butternut squash into the microwave and heat for 1-2 minutes to soften the skin.  Dice squash into approximately 1/2 inch pieces.  Next dice the onion and bell pepper into approximately 1/4 inch pieces.  Coarsely chop dried apricot.
If not already in bite sized pieces cut up the beef stew into approximately 1/2 inch chunks.  Heat cooking oil in a large pot until hot and then sear the beef on all sides but don't cook all the way through.
Lower the heat to medium and add minced garlic, onion, peppers, apricots, and tomatoes.  Continue cooking until onions/peppers begin to soften (5 minutes or so).  Add to the pot tomato sauce, beef stock, cayenne, paprika, cumin, butternut squash, black beans, and wine.
Simmer on low for about 2 hours.  Add salt and pepper to taste then serve with chopped cilantro.
Print