I moved to Bend, OR a few months ago and so far everything has been going pretty darn well.  Perhaps one of the most exciting things about my new home has been the 2 garden beds that I inherited from previous tenants.  A garden is something I always dreamed about having and now I finally had this opportunity without having to start completely from scratch!
As one might expect, weeds had taken over most of the area, but a few onion and chard plants managed to survive the cold Oregon winter as well.  Being a garden noob I didn't know exactly where to start but obviously the weeds would have to go, so I set about removing them as my first step.  Also being a noob I didn't have a lot of tools at my disposal but a pair of gloves and some manual weed pulling were up to the chore.  Well…good thing I went this route because in the large bed I started pulling up fully grown carrots!  I'm not going to say all of them were in real great shape but quite a few were and the others I decided could be put into soup to disguise their imperfections.  It just so happened I had fresh ginger and chicken stock on hand so along with the garden onions the obvious choice was Carrot and Ginger soup!
You can see the original crop of carrots in the picture with the green towel but the carrots I used in the documentation of this recipe were not from my garden but really nice locally grown ones (brown towel).  Both recipes did include onions from the garden though!
Very soon I will begin planting this new garden (Bend has a short growing season) and I'm extremely hopeful to start featuring more garden grown vegetables in my recipes!
Carrot and Ginger Soup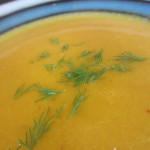 Nutrition facts

(per portion)

:
Serving Size: 6-8;
Instructions
Finely mince ginger and place in a small bowl.  Now cut off the tops from the carrots and dice into approximately 1/3 inch pieces and place in a large bowl (no need to peel them!).  Cut off the ends of the onions and dice the white parts (maybe a bit of the green) and add to the same container as the carrots.
Begin heating a large stock pot over medium heat.  Put butter/ghee/oil into the pot and when it is melted/shimmering add to the pot the ginger and red chili pepper flakes.  After 30 seconds or so add the carrots+onions and give everything a good stir.
Turn up the heat to Medium-High and occasionally stir until the carrots begin to soften (~8-10 minutes).  Add to the pot the chicken (or vegetable) broth and give everything a good stir.  Place lid on pot and reduce heat to low.  Continue simmering for another 10 minutes stirring occasionally.
Add salt and taste until the seasoning is to your liking (can always add more later taking it out is tougher).  Now using a stick blender blend the soup until a uniform consistency has been reached.  Alternately you can let the soup cool and use a regular blender which can result in a smoother end result.  In fact before I put the leftover soup away in the fridge I smoothed it out in my Oster Versa (great blender for the $ if you are looking for one!).
Spoon into bowls and garnish with fresh dill.
Print