One of my New Year's resolutions is to post more snack recipes and general tips for the Slow Carb diet.  This one combines both since one of the best tips for the Slow Carb diet is finding SC approved snacks to curb your hunger.  This is definitely an obstacle when you first start since your body is adjusting to less carbs and its easy to not eat enough at your main meals since you are replacing high calorie foods with lower calorie foods like veggies and greens.  When I was first starting out this snack saved me on multiple occasions as it packs in a lot of calories and also tastes pretty darn awesome.
The beauty of this recipe is its simplicity, this snack will always be there for you when hunger strikes.  At first glance this doesn't even seem like much of a "recipe" with only two ingredients.  However I have included a few not so obvious tips that will help you enjoy this tasty snack much easier.  Other types of nut butters can be used but cashew has risen to the top of the list for me (almond is another solid choice).
Celery and Cashew Butter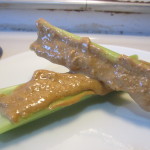 Serves: 1
Instructions
Jar of cashew butter should be at room temperature or even placed in the microwave/oven to soften up a bit (be careful removing it as the glass jar will also get hot).  Using a butter knife (or as shown the Jelly Knife™ I purchased at a local grocery store) begin mixing the butter until oil is distributed and texture is smooth.  Cut the celery stalk in half and fill each stalk with cashew butter.  Eat!
Place cashew butter in the refrigerator so the oil does not separate for next time.
Print