This is definitely not a recipe for the Slow Carbers and the only real modification you can do is to use a different root vegetable (there's always cheat day!).  For everyone else I think you will enjoy my super simple method to perfectly cooked sweet potatoes.  You can use just about any kind of potato but my personal favorite is the Japanese variety (purple ones with white interior).
I've been doing a lot of mountain biking recently and these babies are my #1 post ride refuel.  I'll even take them out on my rides for a trail snack and after exhausting your body for a few hours give me sweet potatoes over any energy product on the market.  Really hits the spot!
If you are looking for more potato and cycling tips definitely follow my pal @yams4life on Instagram.
Oven Roasted Sweet Potatoes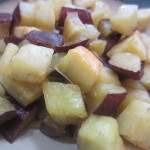 Instructions
The first step with roasting any root vegetable is to give the ingredients a rinse since they have a tendency to acquire dirt on the skin.  After rinsing get them good and dry before proceeding.  Preheat oven to 425.
Next you will want to dice half of the potatoes into approximately 1/4-1/2 inch pieces.  This part can be tricky since sweet potatoes are never uniform in shape and size.  My best advice is to cut the potato in half through the skinny part.  Place both halves on their flat side and make 1/4-1/2 inch cuts vertically.  The 2 end pieces that have the rounded outside are best dealt with alone but the rest you can stack and make your next cut through multiple layers.  Then the final cut on the rectangle pieces will complete the cubificiation.  There are lots of pictures to help you out if those instructions weren't very clear.
The reason you only want to cut half of the potatoes to start is to make this step easier.  To a standard frying pan add 2 tbsp of coconut oil and melt over medium heat.  Once the oil is melted add the cut potatoes and give everything a good stir or if you are feeling adventurous this is a good opportunity to practice pan flips.  Once the potatoes are nicely coated with oil spread them out on a large cooking sheet.  Repeat for the other half of the potatoes.
Try to get the potatoes spread out as much as possible and lightly salt them.  Place in the oven on the middle shelf for 25 minutes.  Take the sheet out and using a spatula turn everything over as best you can.  Put back in the oven for another 5-10 minutes but cooking times may vary depending on the size of potatoes/oven/shelf height etc so keep a close eye on it the first few times.  I prefer a light brown toasting on the outside but you may like your less or more cooked.
These are great on their own but it won't hurt my feelings if you want to make additions.  Hot sauce, roasted tomatoes, avocado, fried egg,...the possibilities are endless.
Print