Here in the Midwest region of the United States winter has a few months left before submitting so I definitely wanted to get this recipe posted on the blog before the end of it.  This chili is based on Picadillo which is a traditional dish in many Latin American countries and is quite different than any other chili I had eaten prior to it and now my absolute favorite.  The main difference is the unique flavor added by the cinnamon and raisins (if you are going Slow Carb Strict skip the raisins which also makes a very good chili).  You can also substitute in your choice of ground meat or leave it out to go vegetarian.
Like I said this is a personal favorite for chili but its always curious to find out what other people think since taste is so subjective.  That's why it was interesting to submit this in my workplace's recent Chili cook off to see what others thought.  As this was my first time competing I made a key rookie mistake in not turning my crock pot on early enough and with 10 minutes before the competition the chili was practically at room temperature.  In desperation mode I began microwaving batches in any Pyrex container that I could find and luckily was able to get it close to optimal temperature.
Despite the troubled start to the competition I ended up taking first place in a a very close decision as you can see below.  It was amazing how different each of the chili's tasted and all very good which shows the versatility of chili and one of the reasons it is so popular.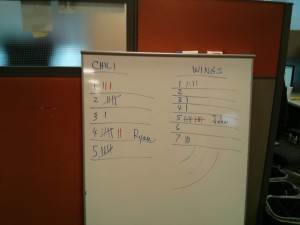 This recipe was adapted from Beef Picadillo Chili on Epicurious.
Picadillo Chili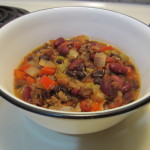 Serves: 6-8
Instructions
Dice the onion [1], bell [2], and jalapeno peppers [3] and add to a large bowl.  In a small bowl mix the chili powder, cumin, cayenne, cinnamon, and coriander.
To a large pot add olive oil and heat over medium.  When oil is shimmering add all the diced veggies and 4 garlic cloves minces or press through a garlic press.  Once the veggies are softened add the spice mixture and stir for 30 seconds.  Next add the beef broth, water, and tomatoes with a pinch or two of kosher salt.  Simmer the mixture uncovered for 30 minutes.
While the mixture is simmering place a non-stick frying pan over medium heat and once it is properly heated add your ground beef.  Continue to stir the beef as it cooks so that it is evenly browned.
At this point open all the canned beans, thoroughly rinse, and set aside.  If you bought whole green olives now is also a good time to slice them.
Once the beef is completely browned drain any excess fat from the pan and add to the pot.
After 30 minutes of simmering add the beans, green olives, and optionally raisins.  Continue to simmer the mixture for 15 minutes and add salt to taste.
For best results let sit in the refrigerator for 1-2 days.
[1] http://www.youtube.com/watch?v=q_2TBbfMLzs
[2] http://www.ehow.com/video_2346573_dice-bell-pepper.html
[3] http://www.youtube.com/watch?v=-2TaDYo3vic
Print