Happy Cinco De Mayo everyone!  I wish I could tell you that I planned this post to coincide with the holiday but it was just a very happy accident.  This recipe actually began a few months ago when I set out on a quest to master the deadly art of Pork Carnitas.  The result of this effort is the recipe here before you and now a staple in my cooking repertoire.
What I like most about this recipe is that it doesn't attempt to alter the pork flavor too much like some of the others I found online.  One for instance used powdered oregano which is a classic pairing with Mexican pork dishes but I found it a bit distracting (maybe I used too much).  Another recipe that most closely resembles my final version (Recipe Tin Eats' – Pork Carnitas) uses fresh squeezed orange juice as the liquid base which was very good in it's own right but in the end I thought the apple juice added just the right amount of sweetness without being intrusive.
Keeping with the theme of not being intrusive I also suggest a minimalistic approach when adding ingredients for your final dish.  When I make tacos with this my absolute favorite is a simple combo of cilantro, radish, lime juice, avocado, and perhaps a touch of hot sauce.  So good!!
Pork Carnitas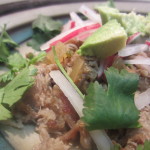 Instructions
Pat the pork shoulder dry using paper towels and then generously season with salt and black pepper.  Pour 1 cup of apple juice into a crock pot followed by the pork shoulder fat cap side up.
Dice the onion and jalapenos (removing seeds) then add to the crock pot and cook on the low setting for 8 hours or until internal temperature of the pork reaches 200 degrees.  If you are using garlic cloves finely mince or use a press and add to the slow cooker.
Once the slow cooker has done it's magic remove just the pork and place on a cutting board while leaving the cooking liquid behind.  Allow the pork to cool for just a few minutes and then shred using 2 forks or those wicked cool bear claw things.
Optional (but extremely important): Heat a flavorless cooking oil (I like Trader Joe's avocado oil) in a cast iron pan over medium high heat.  Once its shimmering add a single layer of pulled pork with some space in between pieces.  Using tongs or a spatula intermittently work the pork around until you get a nice browning.  Ideally you want to have a nice mix of crunch and tenderness so don't over do it.  Next add 1/2 cup of the cooking liquid (onions and jalapenos too) from the slow cooker and allow to cook off.  Give everything a nice tossing and this batch is ready to serve.
You can continue browning the rest of the pork or it also is a nice way to heat up left overs so often I will save the cooking liquid in a separate container and cook the other batches as needed.
Finally devour your Carnitas on their own, in a bowl with rice, in tacos....what I'm trying to say is this stuff is extremely versatile!
Print