A former coworker of mine has an interesting theory: people from Iowa have a disproportionate love of all things pumpkin.  I can not confirm nor deny the scientific data to back this up but as an Iowa native I do enjoy this pumpkin chili recipe.  If you aren't as big of fan of pumpkin, however, you might reduce the amount of pumpkin to 1/2 or 1/4 can or omit it completely.
This recipe was adapted from a one I found on the blog Feast on the Cheap.  This has got to be one of my favorite recipe blogs although you might have trouble staying on Slow Carb after seeing some of their delicious dishes (there's always cheat day!). Mary Anne and Mariel do an excellent job of finding inexpensive ways to create gourmet quality dishes and couple them with interesting descriptions and exquisitely photographed plates.  Check it out!
Pumpkin Chicken Chili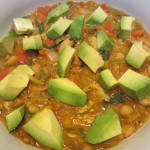 This chili takes a detour from the traditional to create a healthy and unique flavor experience.
Serves 6-8
Instructions
Dice the onion [1], bell [2], and jalapeno peppers [3] and add to a large bowl.  Add to a small bowl or measuring cup the chili powder, cumin, coriander, cinnamon, and nutmeg.  Dice chicken into bite sized pieces and sprinkle with salt and pepper.
Begin heating half the EVOO in a large pot and half in a medium sized non stick frying pan over medium heat.  Mince the garlic [4] or use a garlic press and once the oil begins to shimmer add to the large pot along with the veggies and spices.   Meanwhile add the chicken to the frying pan.
Make sure to stir the veggies and toss the chicken as they cook and in the meantime drain the beans and mince the ginger [5] (optional).  After the veggies begin to soften add the chicken stock, beans, spinach, pumpkin, and ginger to the pot.  You should be able to add the chicken at this point if it is done if not continue cooking in the frying pan and transfer when its done.  Mix everything very well then salt and pepper to taste.  Reduce heat and continue simmering for 30 minutes.
Serve in soup bowl with diced avocado on top (optional).
[1] http://www.youtube.com/watch?v=q_2TBbfMLzs
[2] http://www.ehow.com/video_2346573_dice-bell-pepper.html
[3] http://www.youtube.com/watch?v=-2TaDYo3vic
[4] http://www.youtube.com/watch?v=HSPrHYkaMMo
Print