At the time of this writing there are less than 2 days until Thanksgiving so hopefully you are on top your game and have everything planned out.  If you are like me, however, you might be scrambling for some last minute ideas.  While this dish is probably not going to save the entire day perhaps you can add it to Thursday's starting lineup in a complimentary role.  After all, not every player can be Michael Jordan.  A great team needs Scottie Pippen to succeed as well.
Note: the fennel I used was abnormally large and the beets were on the smaller size so use your own judgment when buying ingredients and not necessarily the exact quantities listed below.
Roasted Beets and Fennel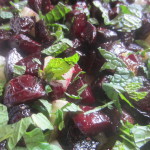 Nutrition facts

(per portion)

:
Serving Size: 6-8;
Instructions
Wash the beets and fennel.  Then using a chef knife dice the beets into approximately 1/2 inch pieces and place into a large bowl/container.  Toss the beets with olive oil then lay out onto a large sheet tray.  Sprinkle with salt and then place into a 400 degree oven with a timer set to 15 minutes.  Now do the exact same to the fennel but hold off on adding to the oven until the timer goes off.  You can reuse the tossing container but you will want to use a different sheet tray to avoid crowding.
After 15 minutes toss the beets around and add to the oven the other sheet tray with the fennel.  Continue baking for another 15 minutes but this may be less or more depending on your oven.  You know they are finish when the beets are easily punctured with a fork and the fennel is golden brown.
Combine the perfectly roasted beets and fennel in a serving dish and top with coarsely chopped fresh mint.
Print