Spring seems an appropriate time for rebirth so after an extended break I'm back with a new recipe for you.  There's also only so many cold days left where this soup will really hit the spot!
I've been making variations of this for quite some time but I really wanted to dial in the flavors before I posted it and I think I've finally nailed it.  It's adapted from Alison Roman's Spicy Pork and Mustard Green Soup which was originally published in January 2014 edition of Bon Appetit.  If you like this recipe you should definitely try the original as well (some of the ingredients might not be Slow Carb).  Also feel free to use ground pork like in the original recipe.  I've tried it both ways and I slightly prefer the sliced sausage but both are excellent.
Szechuan Style Pork Soup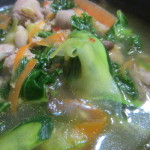 Instructions
Begin by finely mincing the garlic and ginger placing in a small bowl with the red chili pepper flakes.  If using pork sausages slice them into bite sized pieces (~1/2 inch).  Heat olive oil in large stock pot over medium heat and when it begins shimmering add the garlic/ginger/pepper.  To cheat I will add just a tiny bit of ginger to the pot and when it starts sizzling you know its ready.  Next add the pork sausages and give everything a good stir.
While the pork sausages are busy browning dice the shiitake mushrooms into 1/4 sized pieces and thinly slice the green onions.  Once the sausages are nicely browned add to the pot the chicken stock, mushrooms, green onions, cumin, and fish sauce.  Mix it all up and leave the pot to simmer for about 10 minutes over low heat.
Hopefully 10 minutes should be enough time to prep the carrots, zucchini, and kale but if not give me a shout and I will update the steps.  Using a vegetable peeler begin with the zucchini and peel that baby until you get down to the seed layer.  You will need to rotate as you peel and as you take off layers it may get difficult so feel free to quit if you are really struggling.  You could also use a mandolin slicer or spirilizer to create your "noodles" but the vegetable peeler will get the job done.  Next up repeat the same technique with the carrots and since the size and shape of carrots varies you may need more than 4 but basically we are trying to get a similar mass to the zucchini.  Finally remove the stem from the kale stalks and tear up into bite sized pieces.
Now that the soup has simmered give it a good stir and integrate the zucchini, carrot, and kale into pot.  The kale will have to be added in batches since its pre-cooked state can take up a lot of room.  Continue cooking for about 5 minutes (the kale should be the last part to cook down so stop when it just become tender).  Salt to taste and enjoy!
Print