Warning: this recipe contains cilantro.  I had always heard some people complain about the smell/taste of the herb and had no idea why until reading this story from NPR.  Amazingly their intense hatred has a scientific explanation found in genetics.  It seems to me very odd that human genes evolved to discriminate against this particular herb and not any others but such are the mysteries of the universe we inhabit.
So if you love or at least tolerate cilantro give this recipe a shot as is.  If not, I recommend replacing the cilantro with parsley which is another common herb used in chimichurris.
Bon appetite!
Kale Salad with Steak and Chimichurri Dressing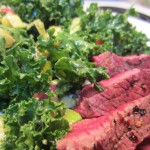 Serves 4-6
Instructions
Start the grill.  Remove the stem side from the zucchini and yellow squash then half and cut into 1/4 inch thick strips, usually about 4 per half.  Lay out steaks and lightly sprinkle with salt+pepper.  Depending on your grill setup you may be able to start grilling the veggies and meat while you prepare the rest of the recipe, for the first time though its probably easiest to finish prepping before you begin using the grill.
Dice red onion[1] and bell peppers[2] and place in small container.  Remove stems from kale[3], wash, and tear into bite size pieces (approximately an inch in diameter).
To a blender/food processor add 3/4 cup EVOO, juice of 1 lime, minced garlic clove, red chili pepper flakes, cilantro, and a pinch of salt.  Blend on high until all ingredients are combined then pour into small jar.
After veggies are finished grilling, dice into 1/4 inch cubes and store in a bowl.  Steak can either be served alongside salad or cut into bite size chunks and mixed with it.  Combine all ingredients (except possibly the steak) and the dressing in a bowl to serve immediately.  If some servings will be saved for leftovers refrigerate in containers of the following: steak+zucchini+yellow squash, onion+peppers, kale, and dressing in jar.
Optional: Avocado should be diced[4] and added to the salad but only immediately before serving.
Print