If you are looking for a quick way to inject a whole lot of nutrients into your diet you would be hard pressed to find a more efficient method than the breakfast kale shake (a.k.a green smoothie).  I know it doesn't sound too appetizing but with a little bit of fruit, a hunk of ginger, and some coconut oil, the flavor of this kale shake is not half bad.
I used to think you needed a fancy $500 blender to properly do a kale shake but due to the water you can make this in pretty much any blender on the planet.  Obviously higher quality blenders will give you a smoother output but really not that big of deal for it to be a tad chunky and if your blender is having a hard time just add a little more water.
Speaking of blenders.  Bang for the buck wise I am very please with the Ninja Mega Kitchen System for all my blending and food processing duties.  It also comes with single serving cups which are nice when you are in a hurry, although you would have to cut this recipe down by 1/4 to make it in them.
Maybe the best thing about kale shakes is their versatility.  Feel free to change up the greens when you get tired of kale: I often use spinach, collard greens, or chard.  For a completely different flavor try adding adding some berries (blue, rasp, black, etc) or other fruit (pineapple is great!).  Experiment with different seeds and nuts (pumpkin seeds, cashews, etc).  Finally throw in some health benefiting spices which aren't always easy to fit into your day to day cooking (cayenne, turmeric, cinnamon, garlic, etc).
Kale Shake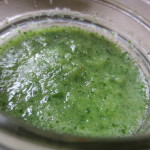 Serves: 2
Instructions
Remove stems from kale and add to blender.  Here is my preferred method for de-stemming kale stalks https://www.youtube.com/watch?v=-TS-CD424gM.  Next cut cucumber, celery, apple, pear, and ginger into large chunks and combine in blender with salt, sauerkraut*, and Brazil nuts*.  Finally add 1 cup of warm water (cold or room temperature water work too, its really more of a personal preference).  If you do want to warm it up I find it's easiest just to microwave for 30-60 seconds in a glass measuring cup.
Blend ingredients on high for 1-5 minutes until the consistency is fairly smooth.  Meanwhile put 1 tbsp of melted coconut oil in a glass mason jar.  Again I use the microwave for this, around 30 seconds should do the trick.
Fill the mason jar with half of blended ingredients.  Place lid on mason jar and give it a good shake.  The other half of the ingredients can be stored for later or combined with another tablespoon of melted coconut oil.
Note: If you eat both servings in the same day you may want to only use one Brazil Nut.
* although these are optional ingredients I highly suggest including them.  Not much of a flavor change but they are excellent sources for Selenium (Brazil Nuts) and Probiotics (Sauerkraut).
Print