WARNING: this recipe is not Slow Carb compatible in any way.  I suppose you could eat it without the "bread" double down style but I wouldn't recommend it.
If you have read the recipes on my blog for any amount of time then you probably already know my views on fundamentalist dieting but to sum them up I'm not very strict on following the Slow Carb Diet to the 'T'.  Sometimes I'll even include alternative versions of recipes using the term Slow Carb Strict to indicate ways to approach a recipe if you are trying to follow the diet exactly as outlined in 4 Hour Body.
Personally I have been introducing more fruits into my diet mostly included in my daily Kale shake (hmmm,that would be a good recipe post at some point).  Try as I might I was unable to come up with a decent tasting non fruit Kale shake and am not strict enough in my diet to eat this on a daily basis.
Continuing this trend I decided that this summer I would explore some Paleo recipes and this is the first of those to make it on the blog.  Not to say I haven't included Paleo recipes in the past (there is an entire category for those at http://www.slowcarbchef.com/category/paleo/) but this is the first to not be compatible with Slow Carb as well.  I hope you enjoy it and I'd love to hear feedback on whether to continue on this path or stick to Slow Carb.
Adapted from The Noshery's El Jibarito (Plantain and Steak Sandwich)
Plantain and Grilled Lamb Sandwich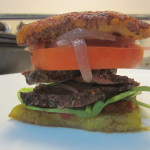 Serves: 8
Instructions
Begin by caramelizing the onions.  Slice the onions[1] and then heat approximately 2 tbsp of Extra Virgin Olive Oil in a large frying pan over low heat.  Add onions, garlic, and pinch of salt to pan and cook slowly for about 15 minutes, stirring occasionally.  Once onions begin to soften add Apple Cider Vinegar and cook for an additional 10 minutes.  While onions are cooking begin grilling lamb over low heat.
Next peel the plantains and cut in half.  Begin heating grape seed oil over medium heat in a large skillet.  You want to have at least enough oil so that half of the plantain is submerged.  When oil is at the right temperature drop in as many plantains as you can and cook until golden brown.  Then remove the plantains and smash into "patties" using a pan (I used the cover for my skillet).  Return the plantains to the oil and continue cooking until golden brown.  Once finished place plantains on paper towels to remove excess oil and let cool.  They will need quite a bit of time to cool you may even want to throw them in the freezer for a bit to speed that up.
When the lamb has been cooked to about medium or medium rare remove it from the grill and let it sit for at least 5 minutes.
Now that you are ready to build the sandwiches place one half of plantain on a plate and add chili garlic sauce.  Next add a handful of spinach, sliced lamb, sliced tomato, caramelized onions, and the other half of the plantain.
[1] http://www.youtube.com/watch?v=q_2TBbfMLzs
Print